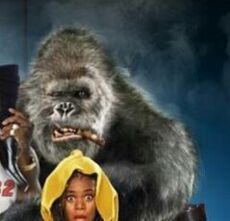 The Gorilla is one of the characters in the poster for Scary Movie 4. He was not depicted in the movie.
According to one source, the Gorilla is supposed to reference King Kong from the 2005 movie, "King Kong," with Naomi Watts, Jack Black and Adrien Brody. Cindy Campbell and Brenda Meeks were supposed to encounter Kong after climbing over the wall in search of Toshio Saeki's father. It is not known if this scene was filmed, but it was probably dropped because of financing or for timing.
Ad blocker interference detected!
Wikia is a free-to-use site that makes money from advertising. We have a modified experience for viewers using ad blockers

Wikia is not accessible if you've made further modifications. Remove the custom ad blocker rule(s) and the page will load as expected.